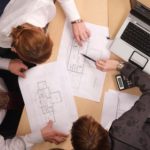 These are some signs that you just can't do it all anymore and could use some help with your franchise human resources solution!
10. I'm supposed to take down "what" OSHA log? When was it supposed to go up?
9. Your handbook and job descriptions were last updated in the previous millennium.
8. That huge stack of papers on your desk IS your employee file.
7. Your Warehouse Manager needs coaching…you overheard him saying WHAT?
AGAIN!!
6. The Customer Service Department is desperately in need of phone etiquette training.
5. The recession is over and Shipping needs six new warehouse workers by WHEN?
4. Your employees are leaving faster than you hire them; how do you get them to STAY?.
3. You need to fire someone, but are afraid you'll get sued.
2. You can't begin to figure out the new healthcare legislation!
And the number one sign that you need HR help…
1. Counting sheep no longer works…you stay up nights worried about employment issues.
If you suffer from any of the above, please get help! You'll be glad you did.
Robin's company, Strategic HR, inc., is a proud winner of the Small Business of the Year award in 2013 presented by the Cincinnati USA Regional Chamber of Commerce. Previous awards also included: Small Business Excellence 10 under 10 Award in 2008 & 2009, Finalist for Small Business Excellence and Woman of the Year 2010. Operating since 1995, strategic HR, inc. serves all industries and provides continuous outreach to the community.